Jazz Education

Support Music & Arts Education in Tampa Bay
Did you know that the main mission of the Clearwater Jazz Holiday Foundation is to support music & arts education in the Tampa Bay area?
For more than 30 years, CJH has provided scholarships to talented, local students interested in pursuing jazz education. The CJH Foundation also brings resources and opportunities to local students through education outreach, internships and intensive jazz education sessions with international recording artists.

Jazz Education Outreach Program


The CJH Youth Outreach Initiative is designed to bring live, interactive jazz music to schools in our community. This year, we visited 15 area middle schools and presented a dynamic workshop designed to engage students with the culture, history and feel of live jazz music.
Working with highly regarded educator, Frank Williams, the CJH Foundation presents performances that mix historical narration with live jazz standards. This combination becomes a unique journey for students, filled with cultural the diversity that is American Jazz. Education and entertainment happen simultaneously as our Outreach Program continues to reach new audiences in an effort to ensure that the art form will survive in our community.

Helping to further the education of youth in our community is the fulfillment of the Clearwater Jazz Holiday Foundation Mission.
Jazz Resources on the web
Lincoln Center Jazz - www.jalc.org/jazzed/index09.html
Monk Institute- www.monkinstitute.org/education.php?Page=EDU-OV
National Public Radio- www.npr.org/music/genres/jazz-blues/
Music Education National Conference- www.menc.org/s/jazz/
Jazz Radio- www.wbgo.org/
Clearwater Jazz Holiday partners with Ruth Eckerd Hall's Marcia P. Hoffman Performing Arts Institute to offer jazz clinics and a comprehensive jazz track program. In addition, the Clearwater Jazz Holiday & Ruth Eckerd Hall Jazz Youth Scholarship is presented annually to exceptional jazz students who display promise in their desire to pursue a musical education.
A select group of 10 students involved in the jazz track program are chosen to participate in The Ruth Eckerd Hall & Clearwater Jazz Holiday Combo. This elite band is made up of top performing students, usually in their junior or senior year of high school. This prestigious group has performed at events for both Ruth Eckerd Hall and the Clearwater Jazz Holiday, including: the Chocolate Nutcracker, Pre-Bacchus Dinner event, The Annual Bacchus at the Vinoy, Clearwater Jazz Holiday and various CJH events.
Click here watch them perform: http://www.youtube.com/watch?v=dk2Skf18Huo


For more information on the jazz track program or Clearwater Jazz Holiday & Ruth Eckerd Hall Jazz Youth Scholarship please see www.rutheckerdhall.com/Learning_and_Outreach


Pinellas Education Foundation


Clearwater Jazz Holiday continues to reach further into our community by partnering with the Pinellas Education Foundation. Through this partnership, CJH is able to award scholarships to outstanding seniors in Pinellas County Schools. A history of success and passion for music are the main qualities that the CJH Selection Committee looks for in the winning students applications each year.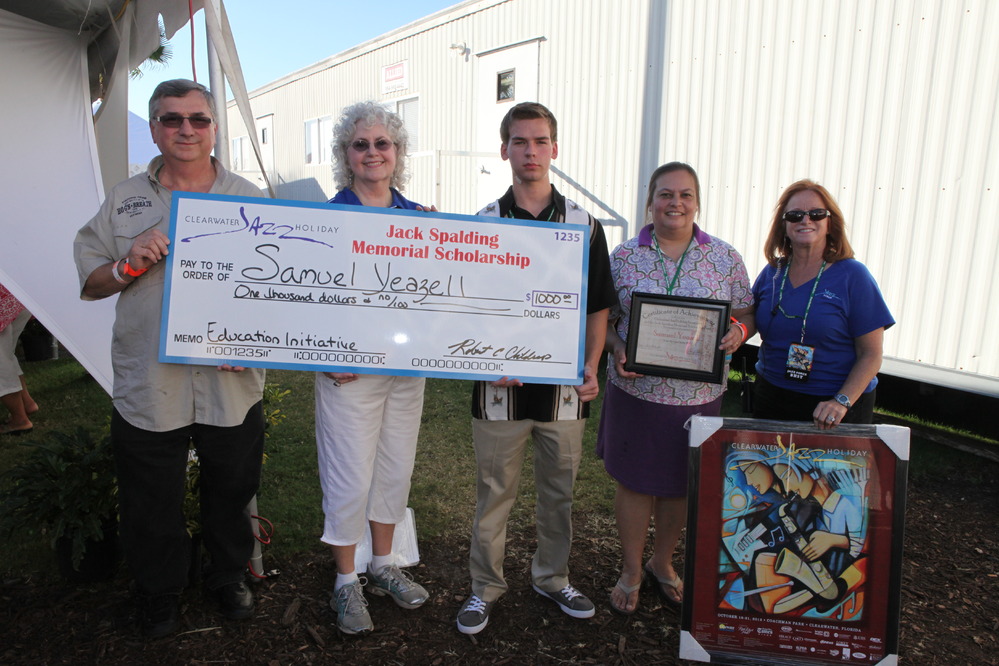 Service Learning


Clearwater Jazz Holiday provides a world-class setting for unique, event-based learning experiences. Students in area high schools and universities participate in all facets of our event production. Service learning positions include photography, journalism, stage and video production, culinary arts, graphic design and merchandising. By participating in the event in October, students gain real-world knowledge, have a chance to meet popular recording artists and view the event from the performer's perspective.

Strategic Partnerships


Clearwater Jazz Holiday depends on dynamic, mutually beneficial relationships with our strategic partners to carry out our commitment to music and arts education in Tampa Bay. A special working group is dedicated to identifying and building these key relationships as CJH continues to grow and change. In 2012, we welcomed new partnerships with The Art Institutes of Tampa, SPC & Eckerd College. These growing relationships help expand the reach of our mission and strengthen public visibility for those who stand with us as we champion education.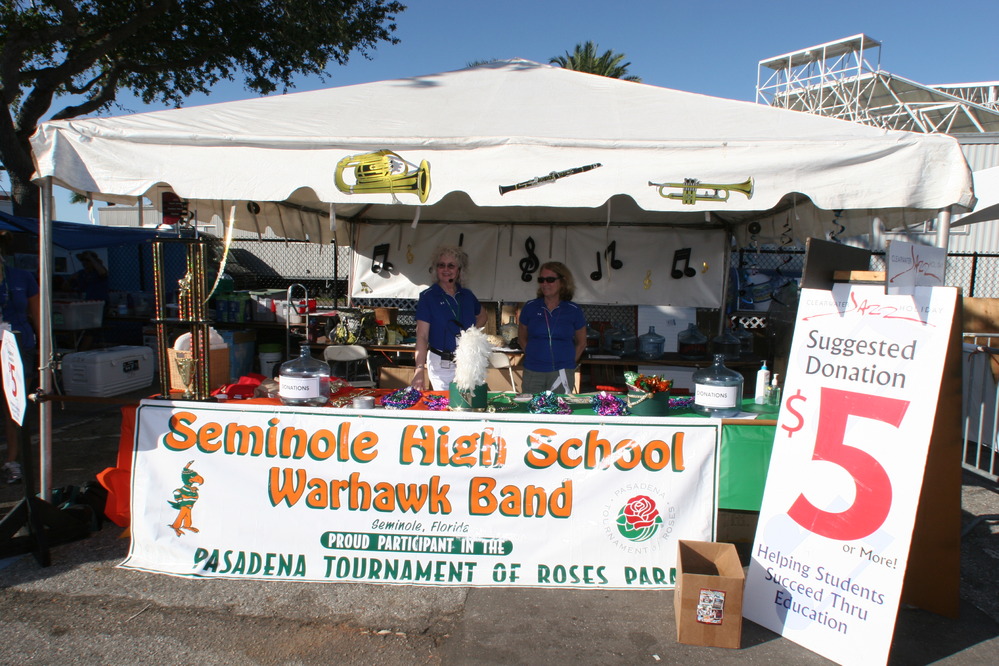 Get Involved!


If you would like to join us in our effort to support music & arts education in Tampa Bay, please contact our office at 727-461-5200 or email michelle@clearwaterjazz.com We appreciate your support and look forward to partnering with you!
---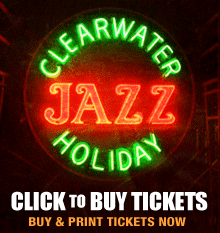 General Admission & Reserved Seating

Purchase your General Admission or Reserved Seat NOW to experience the 36th Clearwater Jazz Holiday Presented by HCI Group Inc.,
October 15-18! Daily, 4 Day and Weekend tickets are available. Kids12 and under are FREE when accompanied by a paid adult.

No exchanges, refunds or Re-entry.
The Reserved seat allows you the opportunity to get up close to the Tampa Bay Times stage and includes one reserved seat in the front area of the stage on the day you select. Daily, 4 Day and Weekend packages are available as well. The purchase of the Reserved seat includes admission to Coachman Park. Entrance to the Reserved Seating section is located on the South side of Coachman Park, to the left of the main stage.
All prices will increase the day of the show. Buy Tickets Now!
Learn More about General Admission & Reserved Seating
CLICK HERE to view a venue map

---
Purchase your individual VIP credential NOW to experience the
36th Clearwater Jazz Holiday Presented by HCI Group Inc., October 15-18!
Your single day VIP Experience affords you a reserved seat along with enjoying our hospitality area on the day you select.

4 Day packages are available though our High Note Society

Entrance to the VIP Experience area is located on the North and South sides of Coachman Park, to the left and right of the main stage.


Learn More about VIP Experience
---

Clearwater Jazz Holiday Official After Party



What better way to continue the Clearwater Jazz Holiday experience than attending the Official After Party of the Clearwater Jazz Holiday, starting at 10:30pm till 1:30am at the Capitol Theatre in downtown Clearwater. Constructed and established in 1921 as the Capitol Theatre (Royalty Theatre 1982-2008), this classic structure, complete with a large mezzanine and furnishings reminiscent of a classic Hollywood theater, is one of the oldest operating theatres in the state of Florida. The theaters beautiful Mediterranean-Revival façade with its ornate parapets and arched entrances were the talk of the town in its day. The finishing touches have recently been placed on the Capitol Theatre, which also encompasses the 1917 Clearwater News Building to its west. The result is a magnificent Mediterranean-Revival gem, which promises to fuel downtown's resurgence and become the cultural and arts center that it once was.
Appetizers and cocktails will be available for purchase

Don't let the party stop as you listen to the sounds of the Mindi Abair, Dave Stryker and the Clearwater Jazz Holiday Jam Band,
Hosted by Allon Sams & featuring the "All-Star House Band" and more!
You never know who might show up and sit in for the Jam!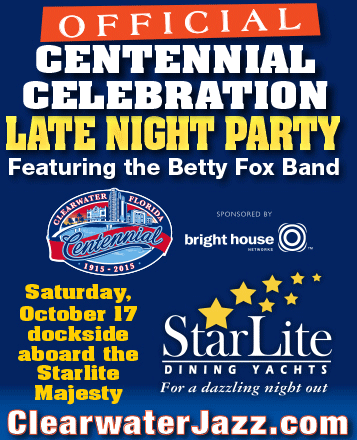 Don't let the party stop as The Betty Fox Band will be keeping the party going!
Starting at 11:15pm till 1:30am aboard the StarLite Majesty Dining Yacht
docked at the Clearwater Harbor Marina on the waterfront of Coachman Park.
This 115-foot sleek, modern styled vessel, the StarLite Majesty Dining Yacht is the
flagship of the StarLite Fleet. The vessel features an all new yacht interior,
elegantly appointed and tastefully decorated to create an unparalleled
atmosphere in a very unique setting. The yacht will remain dockside for this
special Late Night Centennial Celebration party.
Appetizers and cocktails will be available for purchase
Tickets are only $16 in advance while supplies last!
For more information and to purchase your tickets follow the links below!
---


We'll see YOU, October 15-18, 2015


Check back for updates and upcoming events concerning the Clearwater Jazz Holiday and Jazz events in our area!
---
Looking for a gift for that special Jazz Holiday Fan?

Check out our event merchandise.
We've got posters, shirts, hats, Tervis Tumblers and more!
---
Do you have an artist that you would like to see at the

2015 CLEARWATER JAZZ HOLIDAY?
Let us know today at info@clearwaterjazz.com. Thank you for your support!