Your Shopping Cart Contains
45 Items ($2,525.00)
Kyle Wolverton
Kyle was born in Seattle, Washington to Lee and Cherry Wolverton, an extremely musical family. Kyle's Father, Lee as well as Kyle's younger brother Joel, are also sax players. With Mom acting as the family manager and booking agent, the "Wolverton Family Sax Trio" was a very hot ticket throughout the greater Northwest. Much of their repertoire consisted of traditional gospel selections.
Growing up in the cozy, damp, environment of Seattle, Kyle had many hours to listen, learn, and play while watching the rain fall. With his early musical taste firmly rooted in gospel, Kyle found himself drawn toward influences such as Grover Washington Jr., Maceo Parker and David Sanborn. His love of fusion jazz combined with R&B influences such as Marvin Gaye, Luther Vandross, and Keith Sweat soon melded together to create a very unique sound.
Kyle studied music at Pacific Union College. While in school, Kyle founded the Smooth Jazz -Fusion band "Similar Differences", who featured members of Taj Mahal. Similar Differences played throughout the Napa Valley and San Francisco Area. After college, Kyle traveled throughout the South Pacific playing with many native acts which broadened his musical horizons even further. Upon returning to the states, Kyle joined forces with Northern California's premier blues band, "Marshall Law".
In 2001, Kyle relocated to Los Angeles and has since performed with a countless list of fantastic recording artists of all styles. It is with much excitement and anticipation that Kyle Wolverton's debut solo project, "Soul Groove" is being released.
For more information Kyle Wolverton
---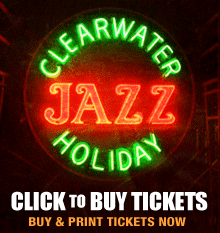 General Admission & Reserved Seating

Purchase your General Admission or Reserved Seat NOW to experience the 36th Clearwater Jazz Holiday Presented by HCI Group Inc.,
October 15-18! Daily, 4 Day and Weekend tickets are available. Kids12 and under are FREE when accompanied by a paid adult.

No exchanges, refunds or Re-entry.
The Reserved seat allows you the opportunity to get up close to the Tampa Bay Times stage and includes one reserved seat in the front area of the stage on the day you select. Daily, 4 Day and Weekend packages are available as well. The purchase of the Reserved seat includes admission to Coachman Park. Entrance to the Reserved Seating section is located on the South side of Coachman Park, to the left of the main stage.
All prices will increase the day of the show. Buy Tickets Now!
Learn More about General Admission & Reserved Seating
CLICK HERE to view a venue map

---
Purchase your individual VIP credential NOW to experience the
36th Clearwater Jazz Holiday Presented by HCI Group Inc., October 15-18!
Your single day VIP Experience affords you a reserved seat along with enjoying our hospitality area on the day you select.

4 Day packages are available though our High Note Society

Entrance to the VIP Experience area is located on the North and South sides of Coachman Park, to the left and right of the main stage.


Learn More about VIP Experience
---

Clearwater Jazz Holiday Official After Party




What better way to continue the Clearwater Jazz Holiday experience than attending the Official After Party of the Clearwater Jazz Holiday Brought to you by Radiance Medspa, starting at 10:30pm till 1:30am at the Capitol Theatre in downtown Clearwater. Constructed and established in 1921 as the Capitol Theatre (Royalty Theatre 1982-2008), this classic structure, complete with a large mezzanine and furnishings reminiscent of a classic Hollywood theater, is one of the oldest operating theatres in the state of Florida. The theaters beautiful Mediterranean-Revival façade with its ornate parapets and arched entrances were the talk of the town in its day. The finishing touches have recently been placed on the Capitol Theatre, which also encompasses the 1917 Clearwater News Building to its west. The result is a magnificent Mediterranean-Revival gem, which promises to fuel downtown's resurgence and become the cultural and arts center that it once was.
Appetizers and cocktails will be available for purchase

Don't let the party stop as you listen to the sounds of the Clearwater Jazz Holiday Jam Band,
Hosted by Allon Sams & featuring the "All-Star House Band" and more!
You never know who might show up and sit in for the Jam!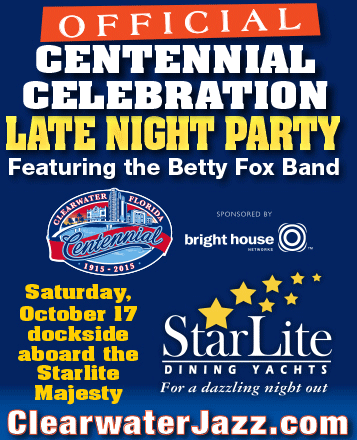 Don't let the party stop as The Betty Fox Band will be keeping the party going!
Starting at 11:15pm till 1:30am aboard the StarLite Majesty Dining Yacht
docked at the Clearwater Harbor Marina on the waterfront of Coachman Park.
This 115-foot sleek, modern styled vessel, the StarLite Majesty Dining Yacht is the
flagship of the StarLite Fleet. The vessel features an all new yacht interior,
elegantly appointed and tastefully decorated to create an unparalleled
atmosphere in a very unique setting. The yacht will remain dockside for this
special Late Night Centennial Celebration party.
Appetizers and cocktails will be available for purchase
Tickets are only $16 in advance while supplies last!
For more information and to purchase your tickets follow the links below!
---


We'll see YOU, October 15-18, 2015


Check back for updates and upcoming events concerning the Clearwater Jazz Holiday and Jazz events in our area!
---
Looking for a gift for that special Jazz Holiday Fan?

Check out our event merchandise.
We've got posters, shirts, hats, Tervis Tumblers and more!
---
Do you have an artist that you would like to see at the

2015 CLEARWATER JAZZ HOLIDAY?
Let us know today at info@clearwaterjazz.com. Thank you for your support!