Your Shopping Cart Contains
45 Items ($2,525.00)
Clearwater Jazz Holiday After Party - Friday Night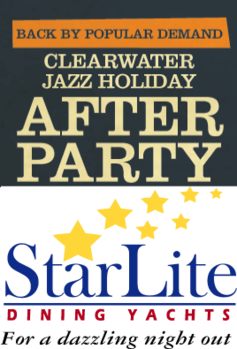 What better way to continue the Clearwater Jazz Holiday experience than attending the Clearwater Jazz Holiday After Party,
Friday & Saturday, October 18 & 19. Starting each night at 11pm till 1:30am aboard the StarLite Majesty Dining Yacht
docked at the Clearwater Harbor Marina on the waterfront of Coachman Park. A 115-foot sleek, modern styled vessel, the StarLite Majesty Dining Yacht is the
flagship of the StarLite Fleet. The vessel features an all new yacht interior, elegantly appointed and tastefully decorated to create an unparalleled
atmosphere in a very unique setting. The yacht will remain dockside for this special after party.
Appetizers and cocktails will be available for purchase
Don't let the party stop as you listen to the sounds of the Clearwater Jazz Holiday Jam Band, Hosted by Allon Sams and featuring Pat Close, Patrick Bettison, Peggy Morris and Peter Mongaya along with appearances by Jazz Holiday artists and more! You never know who might show up and sit in for the Jam!

Tickets are only $16 in advance or $21 Day of Show, while supplies last!

---
The Clearwater Jazz Holiday invites you to join us Thursday, May 28th
for an evening under the stars, aboard the StarLite Majesty Dining Yacht.
Share our love and show your support as we help extend the reach of the
Clearwater Jazz Holiday Education Programs throughout the Tampa Bay Area.
For more information and to Purchase Tickets, 727-461-5200
---


Thank you for an amazing 35th Anniversary event!

We'll see YOU, October 15-18, 2015


Check back for updates and upcoming events concerning the Clearwater Jazz Holiday and Jazz events in our area!
---
Looking for a gift for that special Jazz Holiday Fan?

Check out our event merchandise.
We've got posters, shirts, hats, Tervis Tumblers and more!
---
Do you have an artist that you would like to see at the

2015 CLEARWATER JAZZ HOLIDAY?
Let us know today at info@clearwaterjazz.com. Thank you for your support!