About the Volunteer Program

Thank you for your interest in volunteering at this year's

Clearwater Jazz Holiday - October 15-18, 2015


ON-LINE VOLUNTEER SIGN-UP IS OPEN

Please email volunteers@clearwaterjazz.com for information on the 2015 event.

What do volunteers do?
Volunteering is fun and a great way to meet new people! Volunteers work in all available areas throughout the event. Soda/water/beer, merchandise, parking and site services area are just a few examples of the areas where volunteers are needed. Volunteers are also needed before and after the event for setup and breakdown. This event would not be as successful as it is without our volunteers.
How long do volunteer shifts last?
Volunteer shifts average about four hours long depending on the area.
How old do I have to be to volunteer?
The minimum age for volunteers is 16. Younger volunteers are welcome, but we ask that they work along with Mom or Dad. No volunteers under 21 are allowed to help in the wine and beer tents for obvious reasons.
When do I check in?
There is NO CHARGE for admission on the day of your shift and you will be allowed through the Volunteer Gate 30 minutes prior to your shift (located at the top of the bluff behind the Library). You may not enter through this gate any earlier than 30 minutes before your shift. If you have purchased a general admission ticket then you may enter through the regular gate at any time and report to the top of the hill behind the library 30 minutes before your shift.
Do I get anything for volunteering at the Clearwater Jazz Holiday?
All volunteers receive a t-shirt, unframed poster, a volunteer pin, and a meal/beverage ticket. You will also have the satisfaction of volunteering your time to one of the largest community events in Clearwater.
What should I wear?
Comfort is KEY! Comfortable shoes are a MUST! Wear shorts, a t-shirt or whatever you are most comfortable in. You may also want to bring a sweater or jacket, as the evenings may be cool.
Who do I contact to change my volunteer time?
Simply log-in with your username & password to manage your shift dates and times.
The volunteer site will be open in July through October 14 . After October 14th - NO CHANGES will be made to the schedules.
We look forward to working with you this year! Have additional questions? Please call us at 727-461-5200

---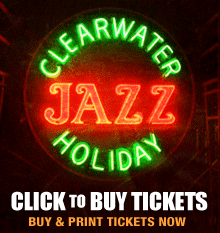 General Admission & Reserved Seating

Purchase your General Admission or Reserved Seat NOW to experience the 36th Clearwater Jazz Holiday Presented by HCI Group Inc.,
October 15-18! Daily, 4 Day and Weekend tickets are available. Kids12 and under are FREE when accompanied by a paid adult.

No exchanges, refunds or Re-entry.
The Reserved seat allows you the opportunity to get up close to the Tampa Bay Times stage and includes one reserved seat in the front area of the stage on the day you select. Daily, 4 Day and Weekend packages are available as well. The purchase of the Reserved seat includes admission to Coachman Park. Entrance to the Reserved Seating section is located on the South side of Coachman Park, to the left of the main stage.
All prices will increase the day of the show. Buy Tickets Now!
Learn More about General Admission & Reserved Seating
CLICK HERE to view a venue map

---
Purchase your individual VIP credential NOW to experience the
36th Clearwater Jazz Holiday Presented by HCI Group Inc., October 15-18!
Your single day VIP Experience affords you a reserved seat along with enjoying our hospitality area on the day you select.

4 Day packages are available though our High Note Society

Entrance to the VIP Experience area is located on the North and South sides of Coachman Park, to the left and right of the main stage.


Learn More about VIP Experience
---

Clearwater Jazz Holiday Official After Party




What better way to continue the Clearwater Jazz Holiday experience than attending the Official After Party of the Clearwater Jazz Holiday Brought to you by Radiance Medspa, starting at 10:30pm till 1:30am at the Capitol Theatre in downtown Clearwater. Constructed and established in 1921 as the Capitol Theatre (Royalty Theatre 1982-2008), this classic structure, complete with a large mezzanine and furnishings reminiscent of a classic Hollywood theater, is one of the oldest operating theatres in the state of Florida. The theaters beautiful Mediterranean-Revival façade with its ornate parapets and arched entrances were the talk of the town in its day. The finishing touches have recently been placed on the Capitol Theatre, which also encompasses the 1917 Clearwater News Building to its west. The result is a magnificent Mediterranean-Revival gem, which promises to fuel downtown's resurgence and become the cultural and arts center that it once was.
Appetizers and cocktails will be available for purchase

Don't let the party stop as you listen to the sounds of the Clearwater Jazz Holiday Jam Band,
Hosted by Allon Sams & featuring the "All-Star House Band" and more!
You never know who might show up and sit in for the Jam!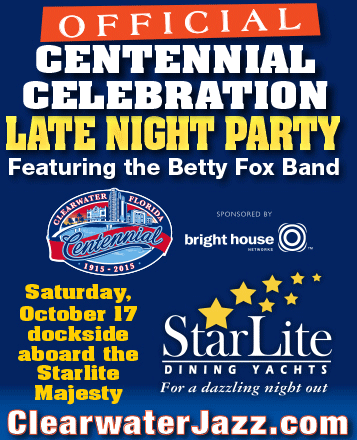 Don't let the party stop as The Betty Fox Band will be keeping the party going!
Starting at 11:15pm till 1:30am aboard the StarLite Majesty Dining Yacht
docked at the Clearwater Harbor Marina on the waterfront of Coachman Park.
This 115-foot sleek, modern styled vessel, the StarLite Majesty Dining Yacht is the
flagship of the StarLite Fleet. The vessel features an all new yacht interior,
elegantly appointed and tastefully decorated to create an unparalleled
atmosphere in a very unique setting. The yacht will remain dockside for this
special Late Night Centennial Celebration party.
Appetizers and cocktails will be available for purchase
Tickets are only $16 in advance while supplies last!
For more information and to purchase your tickets follow the links below!
---


We'll see YOU, October 15-18, 2015


Check back for updates and upcoming events concerning the Clearwater Jazz Holiday and Jazz events in our area!
---
Looking for a gift for that special Jazz Holiday Fan?

Check out our event merchandise.
We've got posters, shirts, hats, Tervis Tumblers and more!
---
Do you have an artist that you would like to see at the

2015 CLEARWATER JAZZ HOLIDAY?
Let us know today at info@clearwaterjazz.com. Thank you for your support!