The 2016 Clearwater Jazz Holiday Poster by Allison Hardin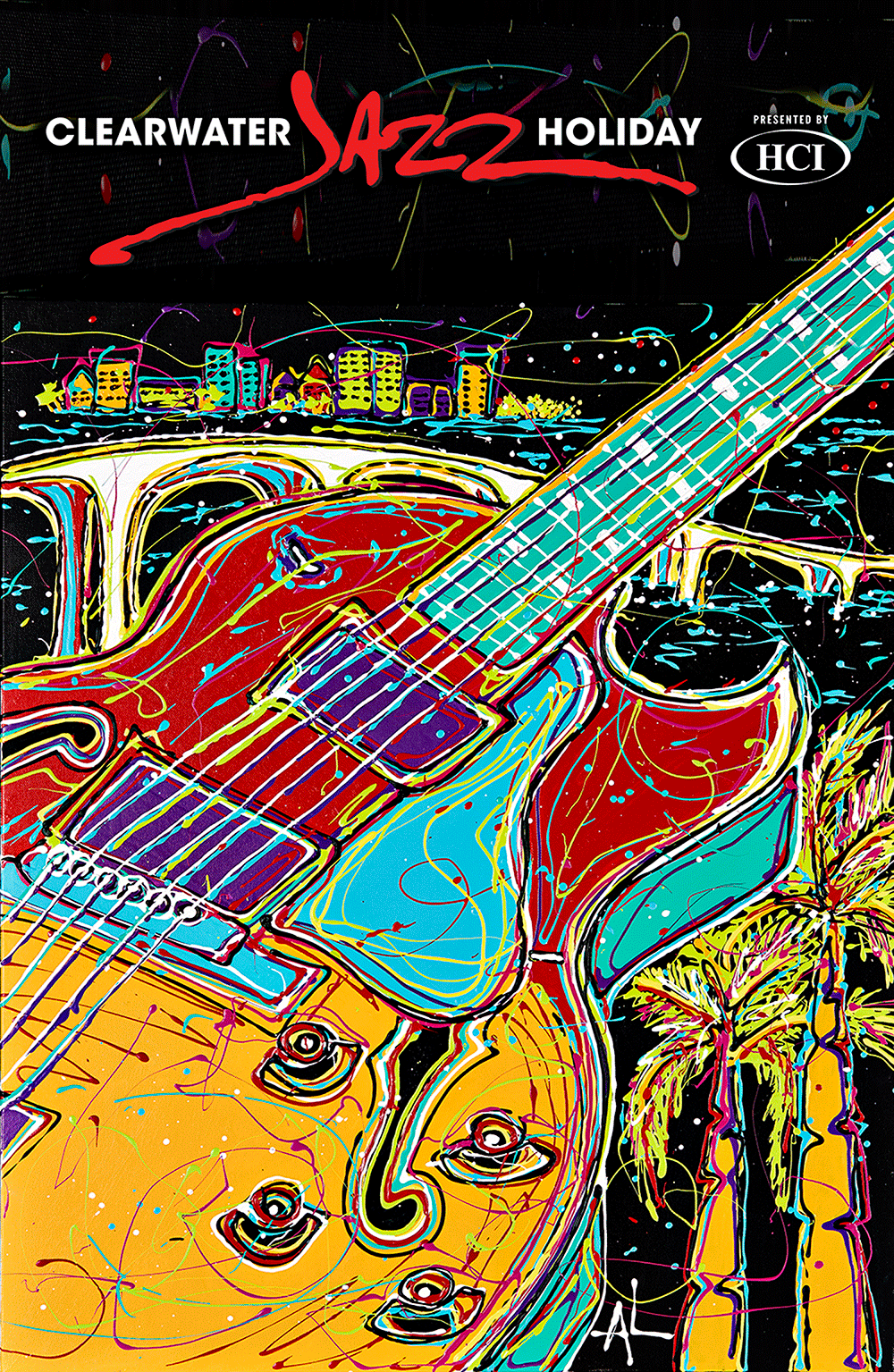 Allison " AL" Hardin a Florida native, was born in 1984 where her earliest childhood memories involve fishing, snorkeling and lobstering with her family. Artistic at a young age she fell in love with the ocean and started painting the vibrant underwater world that fascinated her so much.
During collage she met international renowned artist and lead instructor at Dazzio Art Experience, Judith Dazzio. Hardin studied under Dazzio for over 6 years where she came into her own and found her unique and identifiable style. Bright colored lines whirl around the canvas and come together in an abstract, yet recognizable way. Her study of realism helped shape the artist she has become and gave her the tools and structure necessary to obscure reality and capture an audience with intermingling playfulness.
Painting mostly Florida marine life, Hardin recently switched gears to do a series based on one of her other passions…Music. To her, nothing is more inspiring than another person's artwork than an affective song. She believes like a painting, music has the ability to fill you with emotions and wants people to feel that energy through the movement of paint on her instrumental pieces. She has always been intrigued by the beauty of instruments and all of the musical possibilities they possess.
In addition to local art shows Hardin has been a member and accepted into ISAP-FL (International Society of Acrylic Painters) art show 4 years in a row as well as winning an award. She has been featured in Florida Sport Fishing Magazine both as a runner up and an honorable mention for cover art and recently in Marlin Magazine as one of their online submissions top game-fish artists.
Hardin is currently living in St. Petersburg where she was born. She is working as a manager in a family owned and operated business, but has recently decided to commit more of her time to her artwork. She credits her commitment and drive to the people in her life that encourage her every day to pursue what she loves.